Been awhile, but we've been a tad bit busy!!!!! After a stressful deal, we managed to pull something together in the 12th hour of selling our house, so with that still moving forward we had a frantic moving day. Even with the old garage cleaned out, it still seemed small. I have no idea how I did as much work in here as I did!
The last time the Merc got to hang out in the driveway as I did the finial packing:
Other than being pretty frantic, the move went rather well. The only two casualties being a glass vase the wife dropped, and I managed to knock off a tail light on the trailer during the very last load being hauled out of the garage
We had a good Halloween with the kids in there somewhere too.
New house is coming along quickly, I now have floors and a retaining wall. Hopefully we'll be starting framing this week if the rain holds off long enough:
There was a hiking trip or two snuck in there as well:
And 3 ER visits for the boy in the span of 6 days. Fell and put a large gash in the back of his head (Visit #1 which got him 3 staples):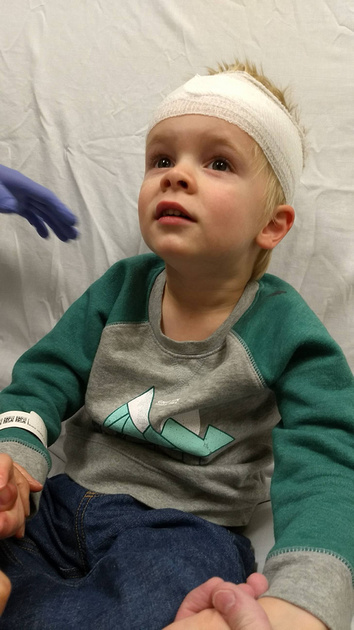 Visit #2 was when he tripped at school and put his tooth through his lip:
…and Visit #3 was when the staple removal went wrong on the back of his head. He took it all very well though:
So yeah.. not looking forward to getting those bills 
So what's new in everyone else's world (if there is anyone that still comes through here anymore).
_________________
-Benno!
(Ben-No!)
'87 XJ –
Scrapped
'94 Ranger –
Parted out
Cookie Cutter '99 TJ – Gone
'99 Mountaineer - Coming soon to a trail near you!
All our randomness and build threads can be found at
http://www.MidwestNomads.com